1. Context
aundice is a common problem and the most common risk factor for hospitalization during the neonatal period (
1
). In most cases, neonatal jaundice is physiologic and requires no treatment; however, in about 10% of the cases, the bilirubin level passes the 95th percentile and needs further monitoring and treatment (
2
). Neonatal jaundice can lead to serious lifelong complications and disabilities such as kernicterus, delayed speech, and motor disorders (
3
,
4
). Early detection of infants predisposed to jaundice can help in preventing and treating serious jaundice complications (
5
). The risk of pathologic jaundice is 1% in the absence of risk factors and up to 59% in their presence (
6
).
With increasing hospital costs, the obstetricians and the mothers' desire for discharge during the first 24 hours after birth (early discharge) increases. As a result, most jaundice cases are asymptomatic during the hospital stay. Considerable weight loss, prematurity (
7
), race, polycythemia, neonatal sepsis, male gender, history of jaundice in the previous sibling, cephalohematoma, trisomy 21 (
6
,
8
,
9
), ABO or Rh incompatibility (
10
), G6PD deficiency, and multiple births (
11
) are considered as the genetic and environmental factors. Moreover, infections, endocrine disorders, polycythemia, and hypernatremic dehydration can increase the risk of neonatal hyperbilirubinemia (
12
).
In an epidemiologic study of the 321 neonates, 20 cases (6.2%) had RH incompatibility, 124 cases (36.6%) ABO incompatibility, 99 cases (30.8%) G6PD deficiency, and 5 (1.6%) ABO and Rh incompatibilities, 27 cases (8.4%) ABO incompatibility and G6PD deficiency, 5 cases (1.6%) RH incompatibility and G6PD deficiencies, and 4 cases (1.2%) RH and ABO incompatibilities and G6PD deficiency (
13
).
Regarding the high prevalence of jaundice in Asian countries, including Iran (
14
), the identification of predisposing factors helps in rapid diagnosis and treatment, improved outcomes, and reduced complications.
2. Objective
The current systematic review was designed to determine the risk factors of neonatal jaundice and update the previous reviews about the study topic.
3. Study Selection
This study is a systematic review that the causes and risk factors of neonatal hyperbilirubinemia were examined. Articles on the risk factors of jaundice in newborns were reviewed and those dealing with neonatal risk factors for neonatal jaundice (18 papers) were selected. The systematic review registration number was 970391.
4. Data Sources
Science Direct, Cochrane Library, PubMed, Web of Science (ISI), and Google Scholar databases were systematically searched using the following keywords: "risk factors", "causes", "jaundice", "hyperbilirubinemia", and "neonates".
5. Data Extraction
A total of 421 articles were included in the study and imported to EndNote software. Out of which, 200 duplicates were deleted. Then, the titles and abstracts of the remaining articles were reviewed and 75 articles were removed due to irrelevancy. In the next step, 158 papers were omitted due to incomplete data, clarity of the study procedure, and lack of full text. Finally, 17 articles were defined as eligible for further review (
Figure 1
).
Articles with the following criteria were included in the study: neonates as the study population, articles in Persian and English language, confirmed neonatal jaundice, investigating jaundice risk factors, and sufficient study results.
The following articles were excluded from the study: Articles with adult populations; studies dealing with the treatment of neonatal jaundice; and articles with only available abstract.
The following data were extracted from the full-text articles and entered in Excel spreadsheets: author's names, publication year, study design and place, sample size, risk factors, results of research, and conclusion.
The methodological qualities of the studies were determined using the quality control tool for diagnostic accuracy scores (QUADAS). This tool consists of 14 yes/no/unspecified questions with the answers scored as 1, -1, and 0, respectively, and a maximum score of 14 (
15
).
6. Results
A total of 17 eligible articles with a total sample size of 31961 neonates, including four prospective, three retrospective, 9 cross-sectional, and one historical cohort article(s) were retrieved from 2010 to 2017. These articles were heterogeneous in terms of inclusion criteria for neonates, sample size, study place, and results (
Table 1
).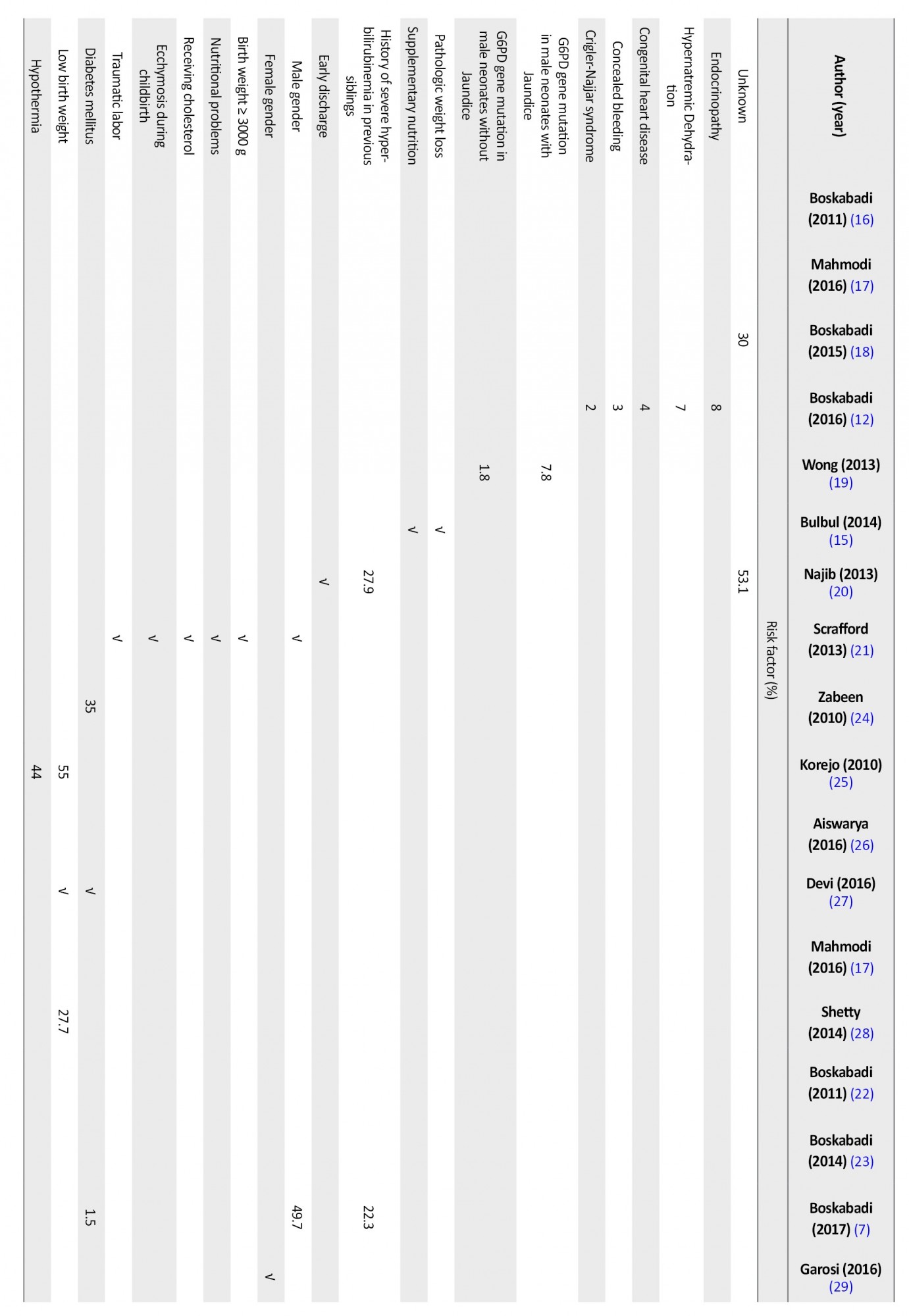 They were distributed in Iran (10 studies, 52.94%), Pakistan (1 study, 5.88%), India (2 studies, 11.76%), Bangladesh (1 study, 5.88%), Turkey (1 study, 5.88%), Greece (1 study, 5.88%), Malaysia (1 study, 5.88%), and Nepal (1 study, 5.88%).
The overall most common etiologic causes of infantile hyperbilirubinemia consisted of ABO incompatibility, infections and/or sepsis (
Figure 2
).
The overall most common risk factors of infantile hyperbilirubinemia consisted of unknown and low birth weight (
Figure 3
).
7. Discussion
Despite the high prevalence and serious lifelong complications of neonatal hyperbilirubinemia, its predisposing risk factors have not been well identified yet. In this systematic review, 17 eligible articles out of a total of 421 retrieved articles were included to review the risk factors of neonatal jaundice. While ABO incompatibility, infection (including UTI and sepsis), G6PD deficiency, Rh incompatibility, and cephalohematoma were defined as reasons for jaundice, the predisposing factors included low birth weight, hyperbilirubinemia in siblings, prematurity, and infant of diabetic mother.
7.1. Etiologic causes of neonatal hyperbilirubinemia
ABO incompatibility is the most frequent and reported cause of neonatal hyperbilirubinemia in various studies. However, a diverse range of prevalence has been reported in different studies. This diversity, even in Iranian studies, is most likely due to the differences in designs and definitions of the studies. Also, neonates born with A or B groups from mothers with O as the most common blood group will be at high risk of ABO incompatibility. Moreover, screening of maternal blood groups is not carried on in many hospital settings and even though it is done, the infant's blood group is not checked routinely. Low sensitivity of parents, health care providers, and specialists to potential blood group incompatibilities can also be a source of the problem.
Infection as an etiologic cause for jaundice was reported in 13.7% of infants in the reviewed articles. Evaluation of urinary tract infection is recommended for neonates with jaundice without signs of sepsis after the first week of life. Sepsis workup is necessary for neonates with symptoms of sepsis beside jaundice, especially during the first week of birth (
30
). The pathogenesis of jaundice during infections is not well understood; however, it may be a risk factor due to hemolysis through microbial toxins or UDPGT (uridine diphosphoglucuronyltransferase) delayed development as a result of infection (
5
,
31
).
G6PD deficiency was one of the major causes of jaundice in this review study (overall rate of 9.4%). Despite the well-identified role of G6PD deficiency in neonatal hyperbilirubinemia, its pathophysiology is unclear yet (
2
,
16
). Jaundice in these infants is most likely due to the decreased hepatic conjugation rather than the increased production of bilirubin secondary to hemolysis (
2
). Moreover, G6PD deficiency is most likely to be detected in hyperbilirubinemic infants rather than through screening.
Rh incompatibility was reported in 7% of neonatal hyperbilirubinemia cases. Different studies have reported various prevalence rates from 2.25% to 14.8%. This diversity can be attributed to the fact that pregnancy care, Rhogam injections during pregnancy and after childbirth, and Rh screening are differently practiced in various studies.
Cephalohematoma was seen in almost 3% of jaundice cases. Even prophylactic treatment of jaundice may help these cases and reduce complications. Jaundice occurs due to red blood cell lysis in these extravascular spaces (
8
). It seems necessary to monitor every neonate with cephalhematoma for hyperbilirubinemia.
7.2. Predisposing factors for jaundice
No risk factor has been reported for almost one-third of the neonatal jaundice cases in the studied articles. Recent studies and our previous works have proposed a list of predisposing factors for neonatal hyperbilirubinemia without mentioning the prevalence (
Table 1
).
Low Birth Weight (LBW) accounts for 30.9% of the overall cases reported from Pakistan (55%) and India (27.7%). LBW and premature infants have shown a higher prevalence of jaundice with more adverse outcomes (
32
); however, many studies have been performed on term or near-term neonates, resulting in a false lower prevalence (
8
,
24
,
26
,
33
,
34
,
35
).
Nutritional problems and weight loss were seen in almost one-third of neonates in our study. Pathologic weight loss is indicative of insufficient nutrition and an indirect increase in the enterohepatic bilirubin cycle and a risk factor for severe hyperbilirubinemia (
15
). According to a previous report, over 20% of severe hyperbilirubinemic infants referring to home has more than 10% weight loss (
36
). Neonates with weight loss over 5% have been proposed to rely mostly on breastfeeding; whereas, supplementary nutrition has been suggested for infants with over 10% weight loss to prevent severe hyperbilirubinemia (
37
). Comparing the bilirubin levels between the twin infants has shown a direct relationship between the severe hyperbilirubinemia and weight loss, indicating weight loss as a risk factor for high bilirubin levels in twin neonates with identical genetic and environmental factors (
38
).
Despite the higher prevalence of jaundice in neonates with the history of hyperbilirubinemia in their siblings, the exact pathways are not clear yet; however, genetic, geographical, and socioeconomic mechanisms can be involved.
Male gender has been reported as a risk factor (risk ratio: 1.76) for neonatal hyperbilirubinemia (
15
,
21
). According to previous studies, the majority of infants with neonatal hyperbilirubinemia were male (
Figure 4
) (
20
,
24
,
39
,
40
,
41
,
42
).
A significant difference was also seen in bilirubin levels between male (29.41 mg/dL) and female (25.77 mg/dL) hyperbilirubinemic infants in our previous study (
34
). However, the exact mechanism through which male gender acts as a predisposing factor for neonatal jaundice is yet to be determined (
41
).
Infants of diabetic mothers are more likely to be at risk of neonatal hyperbilirubinemia due to immaturity, probable polycythemia, and a higher concentration of glucuronidase in breast milk that intensifies the enterohepatic cycle (
43
,
44
).
One of the strong points of the present study is providing neonatal jaundice risk factors and determining the average incidence of each risk factor in one study. Lack of high quality and applicable reports was the most important limitation of the present study.
8. Conclusions
According to our review and considering the region of the studies, the etiologic causes for neonatal jaundice are ABO incompatibility, infection (including UTI and sepsis), G6PD deficiency, Rh incompatibility, and cephalohematoma, while, known predisposing factors for neonatal jaundice include low birth weight, hyperbilirubinemia in siblings, prematurity, and infant of diabetic mother.
Ethical Considerations
Compliance with ethical guidelines
All ethical principles are considered in this article.
Funding
This research did not receive any grant from funding agencies in the public, commercial, or non-profit sectors.
Authors' contributions
Conceptualization, Supervision: Hassan Boskabadi; Methodology: Hassan Boskabadi, Forough Rakhshanizadeh, Ali Moradi, Maryam Zakerihamidi; Investigation, Writing – review & editing, Writing – original draft: All authors.
Conflicts of interest
The authors declared no conflict of interest.
References