1. Introduction
Orbital lymphatic-venous malformation (previously called lymphangioma) is an uncommon unencapsulated vascular malformation of the lymphatic system generally present in childhood [
1
]. These benign cystic lesions are characterized by abnormal endothelial-lined channels [
2
] and represent 1%-4% of all orbital masses [
3
,
4
].
Clinically, orbital lymphangiomas can be asymptomatic. However, symptoms can appear slowly as a mass invading the orbit or suddenly during hemorrhage of the lesion, leading to painful proptosis, compressive optic neuropathy, exposure keratopathy, increased intraocular pressure, restrictive ocular motility, and visual acuity changes [
2
,
5
]. These symptoms may appear after an upper respiratory infection or a minor trauma [
6
].
Lymphangioma can also infiltrate diffusely into surrounding vital structures, such as the optic nerve. Because of its nature, as well as location and connection to adjacent vital structures of the orbit, management can be challenging and depends on the clinical presentation [
7
,
8
]. Here we report a case of orbital lymphangioma presented as acute proptosis and discuss different features along with management of this malformation.
2. Case Presentation
An 8-year-old boy with sudden left eye proptosis was referred to Bou-Ali Sina Hospital in Sari City, Iran. He had no subconjunctival hemorrhage or eyelid swelling. He did not have any complaints of ocular pain or diplopia. There was no history of ocular trauma, loss of consciousness, or neurologic deficit (
Figure 1
).
The visual acuity of the left eye was normal (about 20/20); there was no obvious refractive error. The left eye exam showed ocular motility limitation of all gazes in supraduction (+3), adduction (+3), abduction (+2), and infraduction (+1). His proptosis was axial with upper eyelid retraction. He had 5 mm proptosis in Hertel exophthalmometry. Intraocular pressures were within the normal range; 10 mm Hg in the right eye and 15 mm Hg in the left eye.
His fundus examination was normal. Pupillary reaction and relative afferent pupillary defect were normal, and color vision was good. No evidence of optic neuropathy was detected. There was no pulsation or bruit on auscultation of the orbit.
The patient had a mild cold one week before the examination, and his cold had improved at the time of examination. Imaging was requested for further workup.
Orbital Computed Tomography (CT) scan showed an infiltrative and diffused mass in the intraconal and extraconal space of the left orbit. There was no evidence of bone erosion or sinus involvement. In the axial section, the mass was mostly observed in the supranasal region, which caused left eye exophthalmos. Most lesions were intraconal and caused pressure effect on the posterior surface of the globe, which is evident in the imaging (
Figure 2
).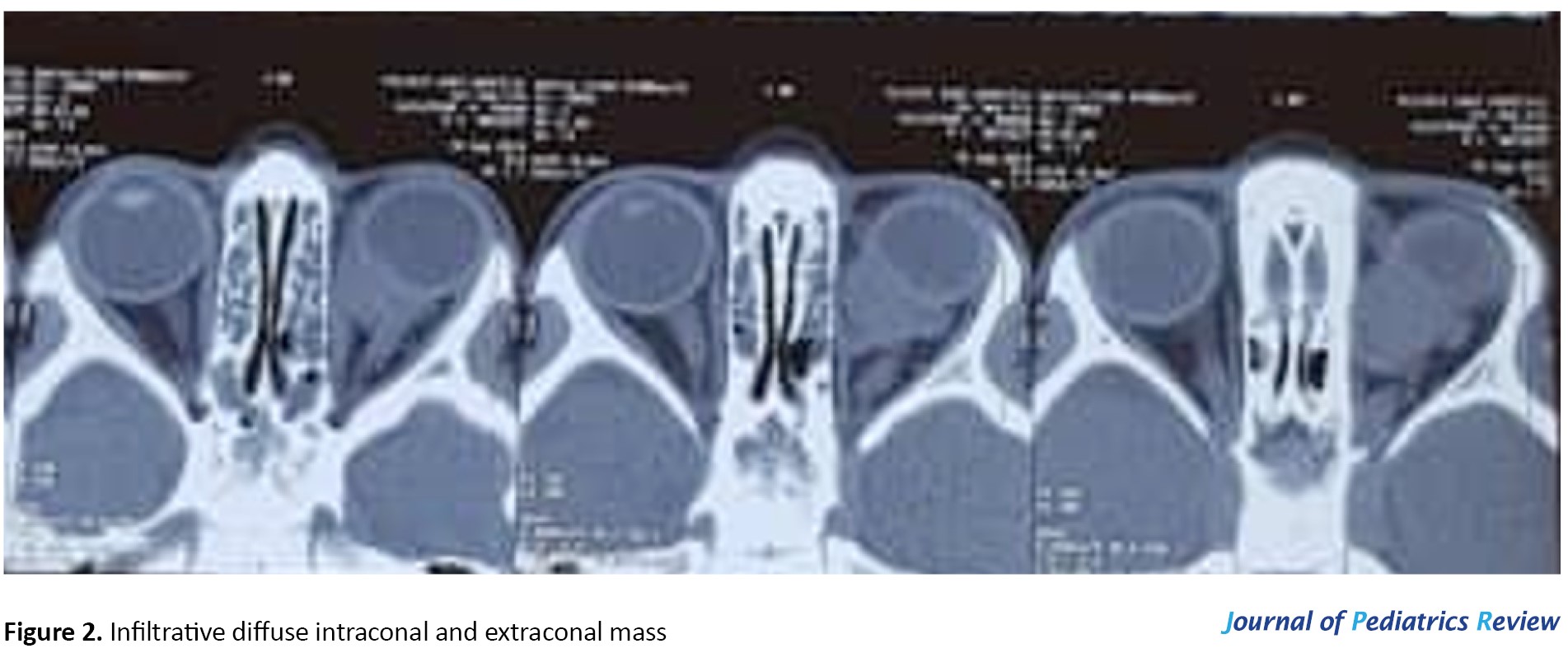 Contrast-enhanced Magnetic Resonance Imaging (MRI) revealed an ill-defined infiltrative heterogeneous lesion and multilobulated structure with fluid-fluid levels, clinically the typical manifestation for orbital lymphangioma (
Figure 3
).
Based on history and clinical examination, differential diagnoses of lymphangioma, capillary hemangioma, and rhabdomyosarcoma were suggested.
According to the typical appearance and clinical course of the malformation plus exacerbation after upper respiratory tract infection in the child that led to sudden proptosis, lymphangioma was the initial diagnosis. So, he went under treatment using 1 mg/kg oral methylprednisolone. After 24 hours, significant improvement in proptosis and ocular motility was observed. In the recovery course, methylprednisolone was tapered and discontinued within 10 days. Restriction of ocular motility and proptosis was completely resolved within 2 weeks, and the patient appearance became normal with no recurrence occurring at one-year follow-up.
3. Discussion
International orbital society has divided orbital vascular malformation into three categories of no flow, venous flow, and arterial flow, though there is some overlap between these groups [
9
]. Because of no connection with the vascular system leading to minimal internal flow, lymphangioma is in the first division [
10
]. Since the orbit does not normally contain lymphatics, there is a theory that orbital lymphatic venous malformations originate from primary orbital varicose or lymphatic or venous systems of the periorbital structures [
3
]. Despite being benign, this tumor has a locally aggressive nature and may cause serious location-dependent problems [
11
]. Head and neck lymphangiomas occur most commonly in the first two decades of life [
12
], although the adult presentation has also been reported, with the oldest diagnosis occurring in a 91-year-old person [
13
].
Based on anatomical location, orbital lymphangioma can be classified into superficial, deep, combined, and complex lesions. Superficial lesions present with subcutaneous cysts or bulbar cystic lesions. They are generally small and involve the eyelid or conjunctiva, while they do not affect vision, globe position, and ocular motility. Eyelid lesions can be an individual mass or present as a sudden hemorrhagic blepharoptosis. Deep lesions follow the classical appearance and may present with hemorrhage leading to sudden or gradual proptosis, pain, and compressive optic neuropathy resulting in decreased vision. In adults, proptosis is often gradual. Combined lesions have deep and superficial components, occasionally extending through the superior orbital fissure. Combined lesions can be associated with clinical symptoms of strabismus and amblyopia. Complex lesion components expand beyond the orbit involving other head and neck structures [
13
,
14
].
The diagnosis of orbital lymphangioma is usually based on clinical examinations and imaging results, mostly by orbit ultrasound, CT scan, and MRI. Orbital ultrasonography reveals a nonspecific irregular shape lesion with a poor margin that typically infiltrates adjacent fat and muscle tissues [
15
]. The lesion has low internal reflectivity [
16
].
In CT scan, orbital lymphangioma appears as cyst-like masses with variable degrees of rim enhancement. CT scan indicates hemorrhage in cysts [
14
] and may show the presence of calcifications within the lesion. It also provides valuable information about the condition of the orbital wall, which is helpful for surgical resection [
17
,
18
].
MRI can exclusively determine hemorrhage with hemodynamic isolation and show acute or chronic hemorrhage within the mass. MRI can specifically show the presence of cyst within the tumor, and the cyst's contents can be predicted with MRI [
1
]. This imaging may also detect the tumor feeder vessels not indicated by CT scan and determine the age of the hemorrhage [
2
,
7
]. Because of the higher resolution, MRI has better diagnostic accuracy than CT scan [
19
,
20
]. Surface coils are often recommended for a higher spatial resolution to differentiate between vascular tumors [
21
].
For a long time, diagnosis of orbital lymphangioma has depended on biopsy. However, with current imaging methods, noninvasive diagnosis is possible in most cases [
1
,
12
].
Many treatment methods for orbital lymphangioma are available, but there is still no conclusive cure for this condition [
7
,
14
]. Nevertheless, there are some clear signs for intervention, such as threatening amblyopia, compressive optic neuropathy, exposure keratopathy, rapid growth in size, glaucoma, evidence of vision loss, and severe cosmetic disfigurement. It is not logical to perform any procedure in asymptomatic patients [
14
]. Because of the benign nature and high possibility of recurrence of these lesions, early intervention in asymptomatic patients is not justified [
22
].
Management of orbital lymphangioma includes surgical and nonsurgical methods that have different processes.Orbital decompression, subtotal resection, surgical debulking with carbon dioxide laser, and intralesional sclerotherapy are surgical options for lymphangioma [
14
,
23
]. Generally, traditional surgical treatments for these lesions are a challenge. Without orbit exenteration, total removal of lymphangioma is almost impossible because of the diffuse, non-capsulate growth pattern and its tendency to infiltrate into the orbital structures. Also, severe hemorrhage may result with a slight manipulation [
2
,
7
,
12
,
13
,
20
,
24
,
25
,
26
]. It has been reported that the risk of hemorrhage during operation can be reduced by using diathermy or carbon dioxide laser [
25
].
Surgical intervention may worsen the patient's prognosis and hemorrhage resulting in proptosis, pain, or optic nerve compression [
13
]. Still, in some specific conditions, such as vision-threatening or severely disfiguring lesions, surgical intervention is required to relieve acute optic nerve compression or corneal exposure [
2
,
27
]. Thus, in some patients, only partial excision is performed to debulk the lesion and reduce the mass effects [
25
]. The patient's age does not appear to be an influential factor in surgical outcomes [
20
]. In rare cases, patients with orbital lymphangioma may need invasive options, such as orbital exenteration and orbital radiotherapy for relieving pain [
27
].
With incomplete excision, the recurrence rate is very high, and patients may experience a prolonged and recurrent course [
6
,
27
]. Accordingly, surgical excision is not recommended as the first line of treatment.
Recently, conservative treatment has become an alternative for managing orbital lymphangioma, which causes no visual deficits or cosmetic issues [
8
,
12
]. Based on previous reports, nonsurgical strategies for orbital lymphatic venous malformations are sclerosing therapy, including ethanol, OK-432, sodium tetradecyl sulfate (Sotradecol, Mylan), morrhuate sodium, doxycycline, bleomycin, and pingyangmycin [
3
,
14
,
28
]. Other treatment options are carbon dioxide laser, beta irradiation, and adjunctive systemic corticosteroids [
3
].
Lately, the use of oral sildenafil for the treatment of microcystic lesions has been reported [
8
]. Sildenafil reduces contractility of vascular smooth muscles and causes cystic lesions to collapse [
29
,
30
]. Woo, et al. [
2
] reported an effective treatment with sildenafil without the most common adverse reactions of sildenafil, such as pyrexia, gastrointestinal discomfort, cough, sleep disturbance, and migraine in their cases.
Sclerosants have been a useful therapeutic option for treating lymphatic malformations for several years. Agents for orbital lymphangioma include OK-432, sodium tetradecyl sulfate (multiple manufacturers), 5% sodium morrhuate, and bleomycin A5 [
25
]. Sclerotherapy is an established management option for these lesions as a new line of treatment to reduce recurrence rate or in unresectable cases with good results in appropriately selected patients [
6
,
25
]. For patients with eyelid or orbital lymphangioma, injection of a sclerosant is a useful treatment, especially if no surgery is preceded on the patient [
24
], but there is always the risk of optic nerve damage [
7
].
Surgical management can be combined with preoperative intralesional injection of sclerosing agents or liquid polymers such as n-butyl cyanoacrylate glue or fibrin glue to aid in dissection and improve hemostasis [
8
]. Fibrin glue is a useful aid during resection and debulking surgery and stabilizes the removed structures [
31
]. Saha K and Leatherbarrow B [
14
] used a combination of these two techniques using fibrin glue and intralesional sclerosant. There are no complete comparative data for using sclerosants.
OK-432 has already been used in managing gastrointestinal and bronchial carcinomas. Besides, there are published cases reporting the successful use of intralesional OK-432 in orbital lymphangioma. Intralesional OK-432 decreases the size of the head and neck lymphangioma and accelerates lymphatic fluid drainage [
2
,
14
,
20
,
27
]. Its side effects include pyrexia, pain, swelling in the injected area. The long-term impact of OK-432 has not yet been studied [
14
,
20
]. OK-432 fibrosis limits intracystic space without damaging adjacent tissue; it can also be combined with surgery [
20
]. It is recommended that this method be combined with the aspiration of blood and application of continuous negative pressure using a correctly positioned drain [
2
].
A report described the use of percutaneous drainage and ablation of the cystic components of orbital lymphangioma. Macrocysts were treated using a combination of intra-cyst injection of both sequential sodium tetradecyl sulfate and ethanol, while microcysts were treated with an injection of doxycycline [
32
].
Other sclerosing agents (such as sodium morrhuate, dextrose, tetracycline, doxycycline, bleomycin, and ethibloc) cause fibrosis around the lesion [
20
].
Bleomycin has a sclerosing effect on vascular endothelial cells and has been used to treat pleural effusion plus vascular anomalies [
2
]. Its side effects are erythema, edema, pain, local necrosis, and flagellate hyperpigmentation, which can be resolved with drug interruption [
6
]. Literature search exhibited a few reports about bleomycin injection for the treatment of lymphangioma without systemic or ophthalmic complications [
33
,
34
].
Radiation has been reported to have no value because of the low proliferative rate of the lesion and local side effects, such as growth retardation [
14
].
Kato et al. [
11
] reported Lymphatic-Venous Anastomosis (LVA) with Indocyanine Green (ICG) lymphography as a novel surgical approach of orbital microcyst lymphangioma with excellent clinical outcomes. LVA is a well-known procedure to improve lymph flow by bypassing peripheral lymph and veins. This procedure is suitable for various lymph diseases. The authors stated that LVA with ICG lymphography might be a new strategy for lymphangioma treatment.
The efficiency of using systemic steroids has been confirmed in some reports. Systemic corticosteroids reduce lymphoid hypertrophy, stabilize the abnormal vasculature, and resolve orbital lymphangioma [
2
,
35
]. Corticosteroid therapy alone was effective management in our case with no sign of recurrence during 1-year follow-up.
Orbital lymphangioma tends to regrow over time unless complete excision is performed, which is often impossible because of its infiltrative nature. The tumor size after recurrence is usually smaller than the primary lesion [
3
,
20
].
4. Conclusion
Orbital lymphangioma is a benign tumor that should be considered in any case of childhood proptosis. Current imaging methods have made a noninvasive diagnosis of orbital lymphangioma possible. Surgery should be performed for patients with threatened vision or severe cosmetic problems. Conservative management is recommended as the first line of treatment.
Ethical Considerations
Compliance with ethical guidelines
All ethical principles have been considered in this article. The participant was informed about the purpose of the research and its implementation stages. Further, the patient's information and details have been kept confidential.
Funding
This research did not receive any grant from funding agencies in the public, commercial, or non-profit sectors.
Authors' contributions
Study concept and design, critical revision and drafting of the manuscript: Najmeh Jafari and Reza Jafari
Conflicts of interest
The authors declared no conflict of interest.
Acknowledgements
The authors are grateful to the patient for participating in this study.
References