1. Introduction
Congenital lacrimal sac fistula is a rare anomaly of the lacrimal system in which, an epithelium-lined lacrimal tract is connected to the skin (
1
). Most cases are unilateral and located inferolateral to the medial canthus. In most fistulas, the lesions are asymptomatic and are found accidentally during routine clinical examinations (
2
). This report aimed to describe an interesting case of a bilateral congenital lacrimal sac fistula that was presented with unilateral epiphora managed surgically to alleviate the patient's symptoms.
2. Case Presentation
A generally healthy 17-year-old girl was presented with the chief complaint of intermittent watery discharge from her left eye since a few months ago. The slit-lamp biomicroscopic examination of the anterior segment and fundoscopy were unremarkable. Ocular motility was also normal. Her family history was negative for any similar problems. Two small orifices were detected in the skin at about 4 mm from the medial canthus on the medial side in both eyes (
Figures 1
and
2
).
She did not have any complaints about her right eye at the time of referral. Probing and irrigation of the cutaneous opening of fistula in the left eye disclosed communication with the puncta and nose. The opening was cleared with no evidence of any inflammation.
An operation was performed under general anesthesia. We clarified that the fistula was connected to the lacrimal drainage system by simultaneous guided probing of the skin orifice and punctum until they were in contact with each other. The evaluation of the lower lacrimal system revealed the patency of the nasolacrimal duct. In the left eye, fistulectomy was carried out after performing a fusiform skin incision around the fistulous opening. The base of the fistula was closed with a 6-0 Vicryl suture, and the surrounding skin was enclosed using a 6-0 silk suture (
Figure 3
).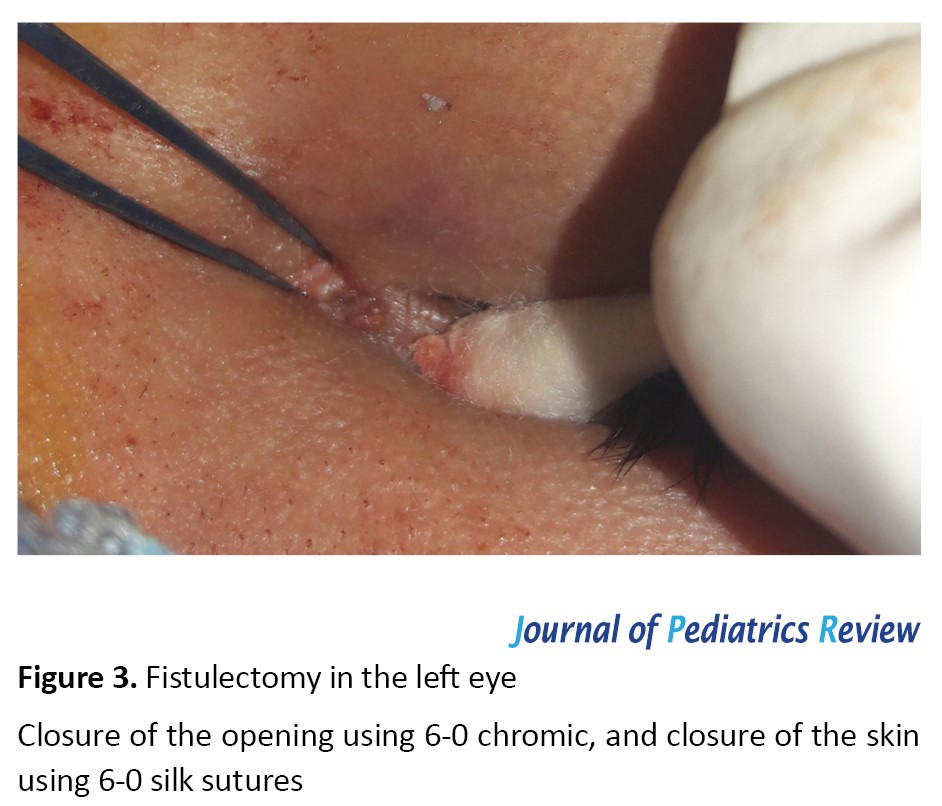 The patency of the lacrimal drainage system was confirmed using fluorescein dye irrigation.
In histopathology examination, the excised tracts revealed duct lined by stratified squamous epithelium. At 4 months of postoperative follow-up examination, the patient declared resolution of epiphora, and no skin hole was detectable. She also did not report any complaints about her right eye.
The patient was informed of being reported in medical journals and ensured her confidentiality and written informed consent was also obtained.
3. Discussion and Review of Literature
The ectoderm cord on the surface constitutes nasolacrimal apparatus embryologically to form the canaliculi proximally, and the lacrimal sac and nasolacrimal duct distally. The embedded ectodermal cord is canalized throughout the length of the nasolacrimal apparatus. Aberrant out-budding of the embedded ectodermal cord or incomplete disconnection of the cord from the surface epithelium can lead to exceptionally extra puncta and canaliculi (
3
). These developmental anomalies of lacrimal fistulas are rare with an estimated occurrence of 1 in 2000 live births (
4
).
Although most cases of these fistulas remain asymptomatic, a complaint of watery discharge is often delayed for many years because of the evaporation of small amounts of tear leakage (
5
). In our case, the patient had a history of intermittent epiphora for many months before referring, so the case was discovered rather late. Up until a few years ago, a simple skin excision with electrocauterization was usually used to alleviate the patient's symptoms with little success, but recently, better results can be obtained with simple fistulectomy in most cases (
6
). In this case, fistulectomy alone relieved the patient's lacrimation.
Anomalies of the lacrimal apparatus can cause partial or complete obstruction of the lacrimal drainage system. These anomalies include punctal atresia, canalicular atresia, dacryostenosis, sac diverticula, and congenital fistula, present in one eye or extremely rare in both eyes (
7
,
8
). The lesions are mostly located inferolateral to the medial canthus; however, atypical cases of congenital lacrimal sac fistula have also been reported, located on the temporal side of the lateral canthus (
9
). Lacrimal fistula can be associated with systemic anomalies. Singh et al. and Keserü et al. separately described two cases of congenital bilateral lacrimal fistulae with nasolacrimal duct obstruction in a patient with Down syndrome managed by bilateral probing and fistulectomy (
10
,
11
).
Bilateral lacrimal fistula has been previously reported in a patient with the VACTERL (vertebral anomalies, anal atresia, cardiac malformations, tracheoesophageal fistula, renal anomalies, and limb anomalies) (
17
). Some of these associations with systemic anomalies are listed in
Table 1
.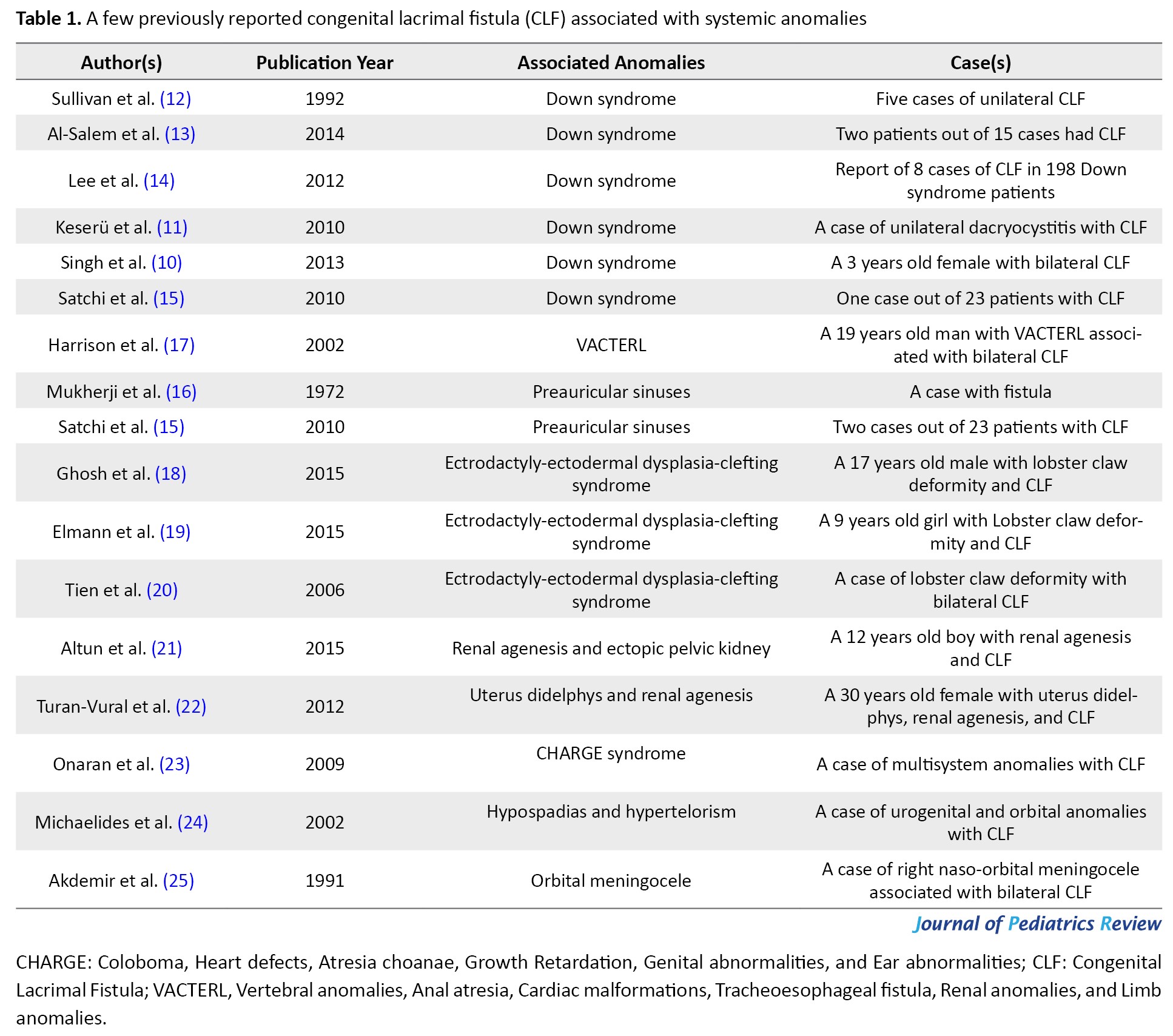 4. Conclusion
Our case demonstrates that this lacrimal system anomaly can be treated successfully by surgical intervention.
cal cases of congenital lacrimal sac fistula have also been reported, located on the temporal side of the lateral canthus (
9
). Lacrimal fistula can be associated with systemic anomalies. Singh et al. and Keserü et al.
Ethical Considerations
Compliance with ethical guidelines
The study was done in compliance with ethical guidelines and the Declaration of Helsinki. Informed consent was obtained from the study case.
Funding
This research did not receive any specific grant from funding agencies in public, commercial, or non-profit sectors.
Authors' contributions
All authors contributed in preparing this article.
Conflicts of interest
The authors declared no conflict of interest.
References