1. Introduction
Preterm birth is childbirth occurring at less than 37 completed weeks (
1
). About 120 million babies are born worldwide each year, about 25 million of whom are underweight at birth, and the proportion is about 50% in some parts of Asia (
2
). Every year, 15 million babies are born preterm in the whole world (
1
,
3
), which is more than 1 in 10 live births (
3
). Approximately 1 million children die each year due to complications of preterm birth (
1
,
4
).
The World Health Organization (WHO) estimates that about 95% of the world's low birth weight babies are born each year in developing countries, including 72% in Asian countries and 8% in the Middle East (
5
). According to statistics, an average of 32 million low birth weight babies are born each year in low-income countries, two-thirds of which are in Asia (
6
). Premature birth occurs in about 9.6% worldwide and about 11.1% in Southeast Asia, and is one of the three leading causes of neonatal death, accounting for 15% of complications of preterm delivery, including respiratory distress syndrome and intrauterine bleeding, necrotizing enterocolitis, and infection (
7
).
Worldwide, the mortality rate of preterm infants is 40 times greater in infants weighing more than 2,500 grams (
5
). According to reports from the United States in 2013, 23,446 infants died in the first year of life, and one-third of infants died of preterm births (
8
). In India, 3.6 million pregnancies a year are affected by preterm birth and lead to premature infant death or subsequent complications and disabilities (
9
).
The risk of giving birth to a premature baby is increasing and these babies, in addition to other complications of this condition, suffer from disabilities in the nervous system, breathing, and digestion (
10
). Premature delivery also has major neonatal complications, including respiratory distress syndrome, neonatal mortality, and pregnancy in pregnant women from 28 to 36 weeks of gestation (
7
). Hypoglycemia, hypocalcemia, hypothermia, and hypoxic-ischemic events are more common in premature infants (
2
). Premature birth is caused by factors, such as premature rupture of the amniotic sac, maternal infections, and special economic and social conditions, which is the second leading cause of death in children under 5 years (44%) and causes various diseases leading to the admission to and hospitalization of premature infants in the neonatal intensive care unit (
11
,
12
).
A baby's physical health as a child, as well as his or her mental health status at an older age, depends heavily on his or her birth weight, and today it is believed that low birth weight babies are more likely to have motor, speech, hearing, learning, and disability disorders (
13
). From an economic point of view, low birth weight infants impose a lot of costs on the health system of countries; In the United States, for example, premature infants, although they make up only 7% of infants, account for more than 25% of medical expenses during the first year of life (
14
).
Identifying the factors associated with the disease and ways to prevent it and managing this data can help reduce premature births, complications, and mortality, and electronic health records are undoubtedly key technologies in the field of care that can meet all the vast and complex needs of the health field (
15
). Although there are different technologies for creating a system, if a system is designed on the web, more capabilities will be added to this system, so that stakeholders in the system anywhere can use this system for educational and research purposes (
16
,
17
).
Recent studies have shown that text messaging (SMS) as a mobile intervention in antenatal care can quadruple or increase the number of users of WHO recommendations and also reduce mortality during pregnancy (
7
). In other words, global coverage of good quality-based care worldwide could prevent approximately 113,000 maternal deaths, 531,000 fetal deaths, and 1.3 million infant deaths per year by 2020 (
18
).
Patient registries collect information about persons with specific health diagnoses or conditions and are known as critical instruments in medical research, clinical epidemiology, and quality management (
19
). The number of registries is constantly increasing and their usage is common for different purposes, such as public health, epidemiology, quality control, clinical registries, and disease-specific registries over the last years (
20
). Despite the ingression of information technology systems into the medical field and the genesis of huge amounts of data by these systems and registries, there is always a deep gap space between collecting, storing, interpreting, and using them (
21
,
22
,
23
). Despite recent advances in medical science, premature infants are still at risk as a group of people (
24
). Implementing an information management system can play an effective role in identifying patients and groups at risk, reducing outcomes, economic costs, and optimal resource allocation (
25
). Poor quality routine data on care processes and outcomes constrain healthcare system improvement (
26
) DIPLOMATIC (Using eviDence, Implementation science, and a clinical trial PLatform to Optimise MATernal and newborn health in low Income Countries.
Accordingly, designing and performing minimum data set (MDS) in health care organizations and institutions as a basic and essential step of disease information management is necessary and required (
27
). MDS is defined as a comprehensive, standardized account of the characteristics and needs of a system (
28
). MDSs share a common language and are designed to support an integrated system of care that can support cross-sector clinical and managerial decision-making (
29
). The purpose of all MDSs, as main health data elements, is to ensure comparability and conformity of the data using standard data elements with uniform definitions (
30
). Also, the MDSs are the foundation of information systems and registries to improve the communication between individuals and organizations involved in the care plans (
31
,
32
).
The current study was conducted to determine the comprehensive information management system for premature infants' MDS for IMSPIMDS in Iran.
2. Materials and Methods
Several methods can be used to determine and develop an MDS, such as interviewing experts in each area, reviewing literature and documents, and available systems and the data sets (
28
,
30
,
33
). This research is a cross-sectional study performed in 2020. A combination of literature review and an expert consensus was used to retrieve relevant data resources. The IMSPIMDS was developed via a three-round process:
Round 1: identification of the data elements using the systematic reviews
In the first round of this study, Data were gathered basically from selected countries including the United States, Australia, Canada, and Brazil, and maternal and child registries and surveillance systems. In addition, relevant information was retrieved by reviewing the guidelines, documents, strategies, reports, forms, and credible websites.
Subsequently, a review was conducted in relevant databases, including PubMed (Appendix 1), Scopus, Web of Science, ProQuest, Embase/Medline, and Google Scholar search engine to identify appropriate related sources. Keywords that were used to search for sources of information included words related to the concepts of MDS or registry (data set, common data element, MDS, registries, information system, electronic health record, and database) and words relating to PIMS (prematurity, preterm birth, low birth weight, and light for gestational age).
Articles without limitation of time and year were extracted from September 2020 up to December 2020 (
Figure 1
).
Our inclusion criteria were full-text papers with the keywords in the title or abstracts, studies that were reported from a health system, and studies published in the English language. In addition, review and systematic review articles that were included in the search result, and articles not reporting a registry or registries not implemented at the minimum level or did not specifically monitor premature newborns were excluded. This systematic review of the literature ensures that the set of data elements is considered for inclusion in the comprehensive, and not simply the currently or commonly used set of elements.
Round 2: classification of the data elements using the focus group discussion
The identified data elements during the first round of the research employed various classifications of the data elements. Therefore, a focus group discussion was sorted to classify the extracted data elements and develop a questionnaire by exploring participants' knowledge and experiences. This focus group was held in the division of neonatology at Semnan University of Medical Sciences with eight experts: two neonatologists, an expert in gynecologist, an epidemiologist, one person with a Ph.D. degree in medical information management, and a health informatics Ph.D. from various departments of Semnan University of Medical Sciences, and a person with a Ph.D. degree medical information management of TUMS.
The questionnaire was constructed using the data elements of the mentioned checklists, including:
The respondents' demographic information, including age, gender, education, participants' expertise, course, faculty, and workplace, which is the first part of each of the following questionnaires.
Proposed maternal MDS in four data main categories with a total of 107 data elements classified to demographic: N=27, prenatal: N=27, pregnancy, N=31, and finally, delivery and childbirth, N=22.
Proposed newborn MDS in eight data main categories with a total of 126 data elements classified to demographic: N=24, admission: N=8, birth: N=40, NICU admission: N=12, conducted intervention: N=11, discharge status: N=20, alerts and reminders: N=7, and reporting: N=4.
Three sessions lasted 12 h. Based on the opinions of each of the eight experts, any extracted data elements that the experts believed were not practical were eliminated. After finalizing the comments, the final version questionnaire was designed.
Round 3: validation of the questionnaire data elements using the Delphi technique
Using the Delphi technique, the content validity of the questionnaire was evaluated using the comments from the expert team and its reliability was calculated through Cronbach's alpha of 0.938 for maternal and 0.915 for newborn questionnaires. The final data elements were chosen by the 31 samples of 37 cases in Amir Al-Momenin mother and children hospital affiliated with the Semnan University of Medical Sciences. The decision Delphi technique was applied to get these hospital's physician's ideas in two rounds. Dalkey and Helmer used the Delphi technique originally in 1963, which is a structured interactive technique that involves a group of invited experts to answer questionnaires in two or more rounds (
34
).
Collected data were analyzed by IBM SPSS 26 (SPSS Inc., Chicago, IL), descriptive statistics, and a frequency distribution report. In this way, the questionnaire items were scored on a 5-point Likert scale (completely agree, agree, no idea, disagree, and completely disagree). Additionally, at the end of each part, a raw as a blank row was used to record specialist recommendations. According to the pattern, our decision-making about the elements was as follows: data elements with agreement levels less than 50% were excluded in the first round, 50–75% agreement levels entered the second round, and agreement levels of more than 75% were accepted in the first round of the Delphi technique. In the second round, an agreement level of 75% was considered on each data element. In the end, the final data elements of the MDS were achieved. Before distributing the questionnaire, among experts, the importance of IMSPIMDS was briefly described for them.
3. Results
Round 1
Based on the search strategy (
Table 1
) and appendix 1 for PubMed database search results, 2926 articles were retrieved and 47 papers were comprehensively surveyed.
At this round, the related papers and maternal and child registries in other countries, including Austria (
35
), Canada (
36
), China (
6
,
37
,
38
), Brazil (
39
,
40
,
41
), France (
42
), Bangladesh (
43
), Norway (
44
), Sweden (
28
,
45
,
46
), Taiwan (
10
), the United Kingdom (UK) (
47
), and the USA (
8
,
48
) and other countries were reviewed; the required MDS for establishing IMSPIMDS registry system was identified and entered into the checklist. According to data sets obtained through scientific studies, articles, references, standard forms, and guidelines, 233 data elements were identified.
The protocol of this round of study was registered in the PROSPERO database with ID=CRD42021258470. The systematic review protocol of the preterm infant information management system is available at the following address: https://www.crd.york.ac.uk/prospero/display_record.php?ID=CRD42021258470
Round 2
Based on the experts' opinions, the Information Management System for Premature Infants' Minimum Data Set (IMSPIMDS) data elements were divided into two main categories: maternal with four sections and newborn with eight sections. At this round, the total number of data elements for maternal and newborn categories was 107 and 126, respectively. This MDS was provided in the form of a questionnaire to 37 physicians, including neonatologists, pediatricians, gynecologists, and residents of these fields. Of 37 sent questionnaires, 31 cases were returned.
Table 2
shows the attending experts' demographic characteristics.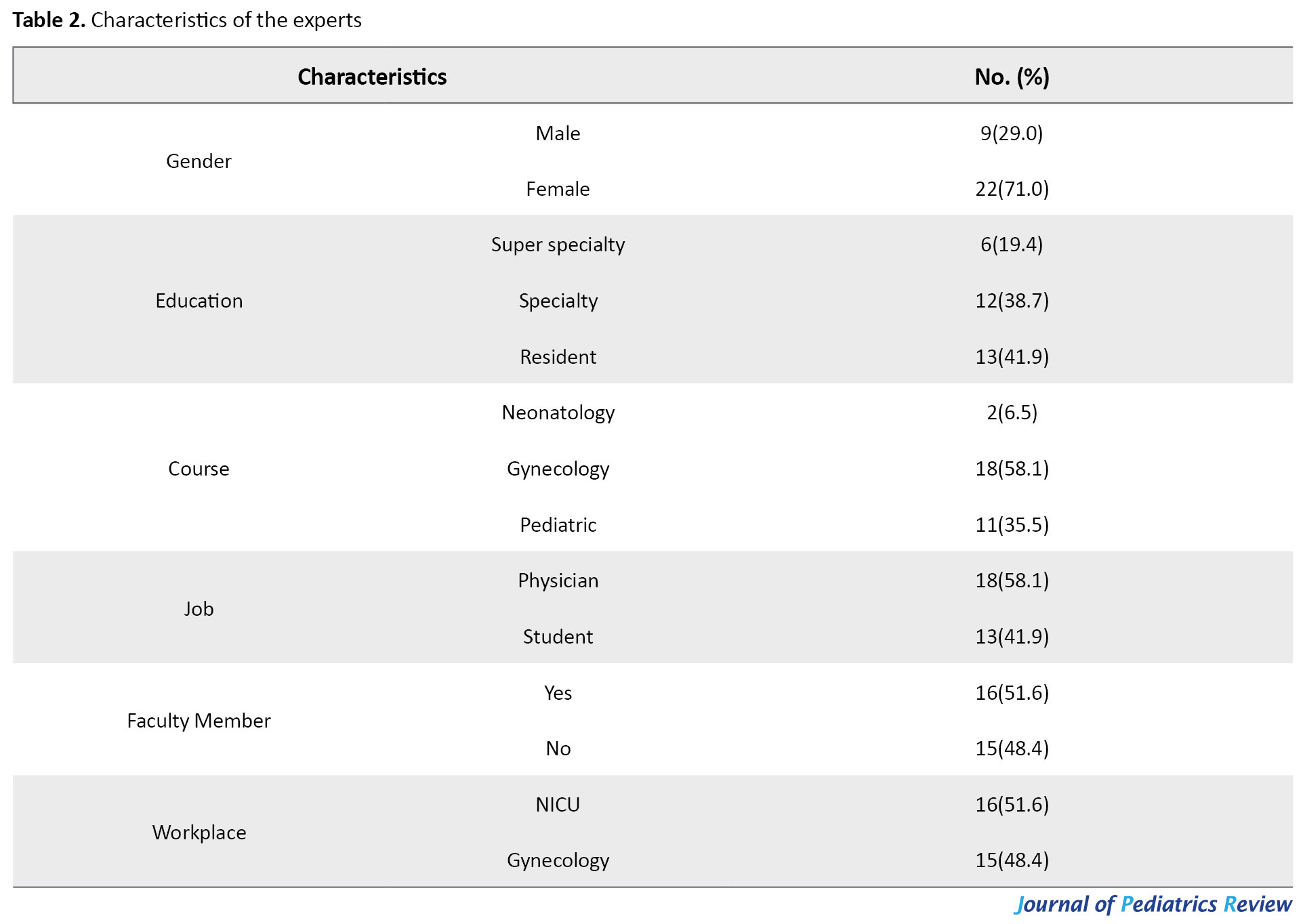 Round 3
The findings of the first round showed that 232 data elements were approved for the IMSPIMDS registry and one was rejected and one added. Moreover, the findings of the second round of the present study showed that all data elements for maternal and newborn requirements were approved. After applying two rounds of the decision Delphi technique, the final data elements for maternal and newborn categories were 107 and 126, respectively (
Tables 3
and
4
) (
Figure 2
and
3
).
4. Discussion
The Delphi study resulted in a 223-item MDS, specifically designed to support the current and ongoing evaluation of premature newborn treatment and outcomes. Until now, clinicians, researchers, and executives have had little-to-no guidance and directory on the clinically relevant and consistent reporting of prematurity data (
49
). Safdari et al. reported that determining the MDS to meet the basic needs for the establishment of a surveillance system is necessary (
50
). This study achieved its aim to develop an MDS for prematurity data management (IMSPIMDS), with accompanying physician alarms and parents' educational reminders. Also, it generated new knowledge to enable healthcare systems, professionals, decision-makers, and government policymakers to collect relevant, useful, and meaningful data to reduce the incidence of prematurity and low birth weight.
Non-standard data gathering methods provide data relevant to the health status of older populations, but they may not be comprehensive or representative. Collecting uniform, clinically rich data, including risk factors, treatments, and outcomes at key points for a particular disease or procedure are very important for the treatment team. In addition, they provide rapid or real-time feedback/reports at patient and population levels to facilitate care delivery, coordination, quality improvement, and quality reporting. A patient registry is an organized system that uses observational study methods to collect uniform data (clinical and other) to evaluate specified outcomes for a population defined by a particular disease, condition, or exposure, and that serves a predetermined scientific, clinical, or policy purpose (
51
).
Well-defined data gathering is used for patient registration, medical center identification, insurance and reimbursement, medical research, outcome evaluation, and administrative reports (
52
). In this study, the administrative data were categorized into nine different data classes. They are more comprehensive than similar hospital MDSs, such as those of New Zealand (
35
), England (
28
), and France (
42
), which have more data elements, especially in the legal, incident, and geographic data classes.
In this study, our MDS for prematurity information management system contained not only clinical data but also administrative and financial data of patients. We classified the MDS into two main categories of maternal and newborn and some classes and subclasses. In another study in 2020, the Neonatal Abstinence Syndrome Minimum Data Set (NAS-MDS) was developed, and MDS was divided into two main categories for mothers and infants (
31
). Consequently, an MDS was designed for child abuse, in seven categories as follows: demographic data, incident-related data, medical history, diagnostic tests, incident nature, therapeutic measures, and other required data (
33
). In this research, MDS for prematurity was classified into 11 classes for mother (demographic, prenatal, pregnancy, delivery, and childbirth) and newborn (demographic, admission, birth, NICU admission, interventions, discharge, alerts and reminders, and reporting).
In this study, one of the classes considered in the system is the communication with the physician and the treatment team to inform them of the vital condition of the newborn regarding the level of blood oxygen saturation and respiration, which is usually done by the patient care nurse by making a phone call to the doctor. This possibility, in addition to timely notification of the physician and his rapid intervention, reduces the workload of nurses to contact physicians. In this MDS, decreased blood oxygen saturation, respiration rate, and pulse rate cases were considered to create an alarm to the physicians' mobile phones. During both stages of the Delphi study, sending alarms received the full score, and all members of the expert team agreed to be in the set. This shows the importance of the issue.
Premature babies are very different from other babies in terms of care due to their very small size and have a high cost for the country and the family, which can be helped by parents by using an education-oriented message. Announcing vaccination reminders and referring to offices and health centers for weight measurement and screening of infants can also have a significant effect on promoting neonatal health and increasing parental satisfaction. The other part of the alarm section is dedicated to providing educational messages to parents. In most studies and registration systems of other countries, the systems are dedicated only to collecting clinical data of patients and most of them did not interact with physicians, especially parents, which according to the team of experts in designing registration systems, it should be more considered.
In designing the MDS of this system, too much attention has been paid to all types of identity and demographic, socioeconomic, financial, and administrative data along with clinical data. While in many previous systems, they did not receive much attention and were more supported clinically.
5. Conclusion
Contemporary neonatal intensive care units collect a large amount of patient information in a variety of formats, but efficient processing of information by medical professionals is difficult. In addition, the various stakeholders in the neonatal scenario include parents and staff who play different roles and have different information requirements. A detailed and comprehensive MDS makes a standard structure of concepts that lead to creating information systems and registries. Many registration systems have been developed by many countries in the past. However, due to the different functions of these systems and also the distinct goals of their creation, it is better to create a minimum data set before creating the system, even if it is local or regional, and then create the system. We suggest for future studies use the Delphi method along with other methods, to examine the development of MDS from other aspects. Also, we recommend that researchers use the electronic survey to reduce the cost of printing and distributing questionnaires, increase the speed of receiving answers, increase the response rate, and finally reduce the cost of maintaining the information of the survey, and also there is no need to enter information manually in this approach.
Ethical Considerations
Compliance with ethical guidelines
This study has no human or animal samples.
Funding
This research did not receive any grant from funding agencies in the public, commercial, or non-profit sectors.
Authors' contributions
Study conception and design: Shahrbanoo Pahlevanynejad, Reza Safdari, and Navid Danaei; Acquisition of data: Shahrbanoo Pahlevanynejad, Mehdi Kahouei, Majid Mirmohammadkhani, and Elham Saffarieh; Analysis and interpretation of data: Shahrbanoo Pahlevanynejad, Reza Safdari, Navid Danaei, and Majid Mirmohammadkhani; Drafting of the manuscript: Shahrbanoo Pahlevanynejad, Reza Safdari, Mehdi Kahouei, and Navid Danaei; Critical revision: Shahrbanoo Pahlevanynejad and Reza Safdari; All the authors read and approved the final article. All authors contributed to the study design.
Conflicts of interest
The authors declared that there is no conflict of interest.
Acknowledgements
This study was the first part of a Ph.D. dissertation with a research ethics certificate with the approval ID of IR.TUMS.SPH.REC.1399.126. We appreciate all the pediatricians and gynecologists involved in the Delphi review in Amir Al-Momenin hospital affiliated with the Semnan University of Medical Sciences.
References