1. Introduction
Diabetes mellitus is a group of metabolic disorders (
1
). According to the current classification, there are two major types: type 1 and type 2 diabetes (
2
). The prevalence of diabetes mellitus is increasing worldwide (
3
,
4
). Type 1 diabetes is a chronic disease (
5
), caused by the destruction of pancreatic β-cells (
6
,
7
) and mediated by autoimmunity (
8
,
9
), which leads to insulin deficiency (
10
,
11
) and high blood glucose concentrations (
11
,
12
,
13
). Type 1 diabetes is one of the most common endocrine diseases in childhood (
14
,
15
). Worldwide, 600,900 children under the age of 15 and 1,110,100 patients under the age of 20 have type 1 diabetes, and type 1 diabetes incidence is 98,200 new cases in the people under the age of 15 years annually (
16
,
17
). Moreover, its incidence faces with 3-5% increase annually (
18
,
19
). About 40% of patients with this type of diabetes are less than 20 years old and the highest rate is related to the two ages of puberty and 5-7 years old (
20
).
Diabetes is a lifelong disease with short-term and long-term complications (
21
) that can be fatal if left untreated (
10
). The most severe acute complications of diabetes include hyperosmolar hyperglycemia and diabetic ketoacidosis (DKA). Both conditions require immediate medical intervention (
21
,
22
). The incidence of DKA varies worldwide due to differences in the quality of health care and socioeconomic conditions (
23
).
Approximately 30-40% of children with new-onset diabetes and many during the disease (1- 10 times per 100 patients with diabetes per year) develop DKA (
3
,
24
,
25
,
26
). DKA is the leading cause of death in children with type 1 diabetes (
19
,
23
,
27
,
28
,
29
), which is caused by severe insulin deficiency in either previously undiagnosed patients with type 1 diabetes or individuals with known diabetes who deliberately or inadvertently take insufficient amounts of insulin (
27
,
29
,
30
). It is a life-threatening complication (
31
,
32
) that is diagnosed with hyperglycemia, acidosis, and ketosis (
33
,
34
,
35
) and rapidly leads to severe dehydration and mental state changes caused by cerebral edema (
36
). The ultimate goal of DKA treatment is to correct hyperglycemia, ketoacidosis, and dehydration, and prevent treatment complications (
32
), including cerebral edema (
33
). Although diabetic ketoacidosis is not the most common acute complication of type 1 diabetes in children and adolescents (
37
), the cerebral edema caused by it is the most common cause of death in children with DKA, which is associated with significant morbidity (21% to 35%) and mortality (30-60%) (
24
,
38
,
39
).
Cerebral edema is a potentially non-specific and fatal complication of DKA, which may occur focally or diffusely after any neurological damage. This condition has many manifestations and is associated with numerous cellular physiological changes (
40
,
41
) and usually presents with changes in the level of consciousness, bradycardia, hypertension (
42
,
43
), respiratory pattern abnormalities, and plantar extensor response on the lesion site (
44
). According to the results of a similar review study aimed at evaluating cerebral edema in diabetic children, the pathophysiology of cerebral edema was divided into three categories: cytotoxic, vasogenic, and osmotic and the role of specific aspects of DKA treatment in the development of CE continues to be controversial (
41
).
Predicting pediatrics at risk for cerebral edema is challenging (
45
). Although some degree of cerebral edema is present in most DKA patients, symptomatic cerebral edema is uncommon and is primarily diagnosed in 0.5 to 1% of children (
38
). Since the existence of a definite link between cerebral edema and therapeutic agents has not been established (
32
) and the signs and symptoms of cerebral edema may be subtle or unknown (
46
), the prevention of cerebral edema caused by DKA in children should be taken seriously. Due to the importance of successful management of DKA treatment and prevention of its complications, the aim of this study was to investigate predisposing factors of cerebral edema in pediatric DKA.
2. Materials and Methods
The search strategy was determined based on PICO. Keywords were obtained based on "MESH" and article keywords with related titles were searched (
Table 1
).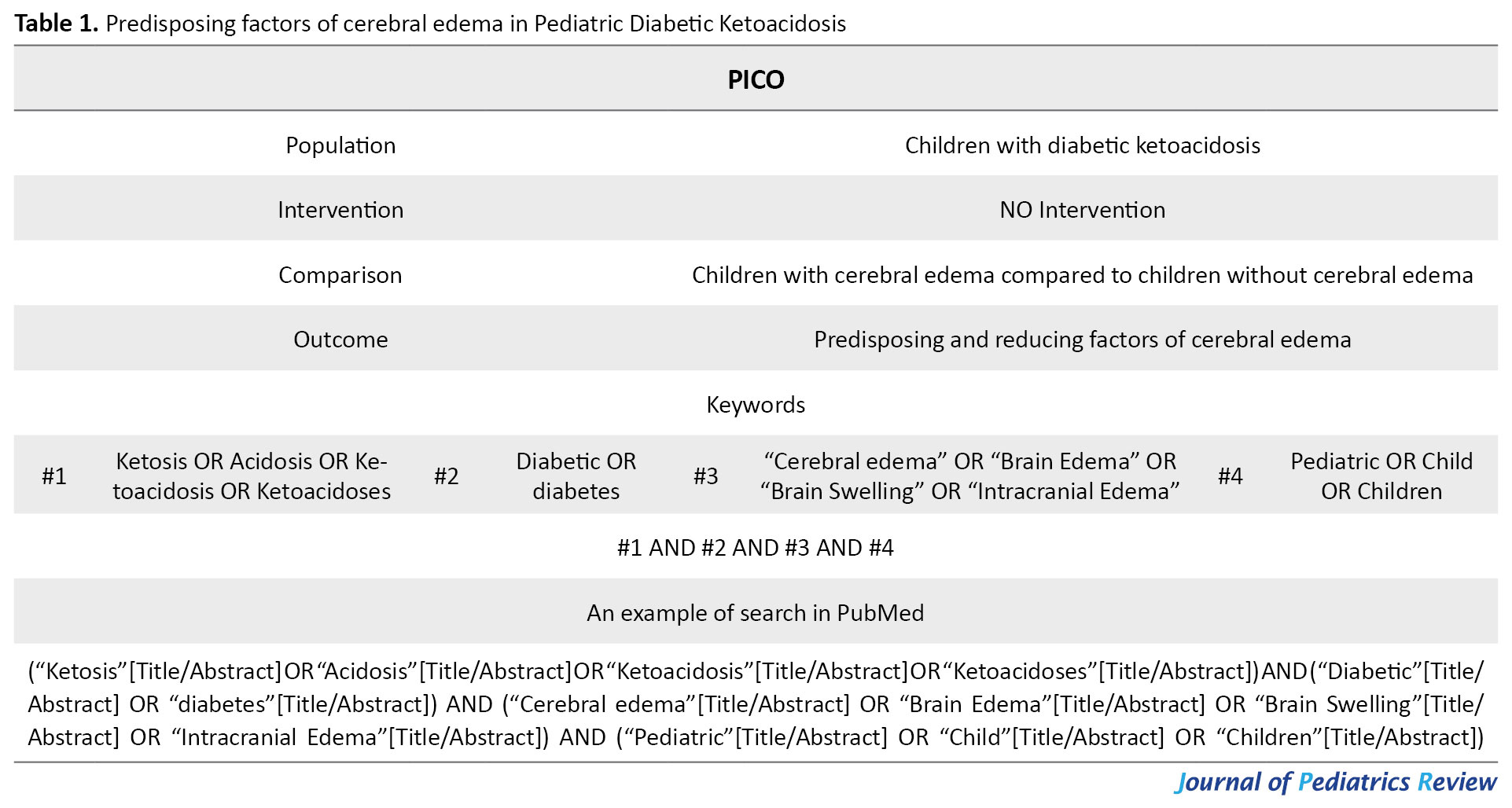 Databases, including Wiley, Medline, Scopus, Web of Science, ProQuest, and Cochrane Library were searched based on the "AND" and "OR" functions. Also, to access the published Persian studies, databases, including SID, Magiran, and IranMedex with similar keywords were searched. In addition, to achieve saturation in search results, we reviewed a reference list of almost identical articles. Eventually, based on the keywords, a search was performed in the Google search engine to add existing relevant resources that were not retrieved from the mentioned databases.
Inclusion criteria were descriptive and observational studies, free full-text studies, Persian and English articles, keywords mentioned in the title or abstract, and articles of the last ten years. Exclusion criteria were thesis results, clinical trials, letters to the editors, and pilot, review, and meta-analysis studies and studies on cerebral edema in adults. Articles were searched by two independent researchers. The two researchers separately screened the titles and abstracts of the articles obtained from the search and consulted with a third researcher to resolve existing differences. The third researcher evaluated the articles based on inclusion and exclusion criteria. Duplicate studies were excluded. Then, articles with inclusion criteria and related to the objectives of this study were reviewed.
3. Results
A total of 986 articles from the mentioned databases were found in the initial search and nine articles with inclusion criteria were reviewed (
Figure 1
).
Predictors of cerebral edema
This study included five articles on low pH and severe DKA, 2 articles on the low level of bicarbonate, one article on a young age and female gender, one article on delay in diagnosis of diabetic ketoacidosis, two articles on new-onset diabetes, seven articles on how to fluid replacement, including volume, type of prescribed fluids, and fluid therapy before reaching the study center; three articles on high blood urea nitrogen level, one article on low phosphate levels; one on article high PCO2, three articles on bicarbonate therapy, one article on delay in potassium replacement, and one article on upper serum osmolarity presented as risk factors for cerebral edema in a patient under 18 years with DKA. Cerebral edema causes impaired brain function. Therefore, its early diagnosis and treatment should not be ignored. In order to detect early, it is important to be aware of the predictive signs and symptoms (
Table 2
).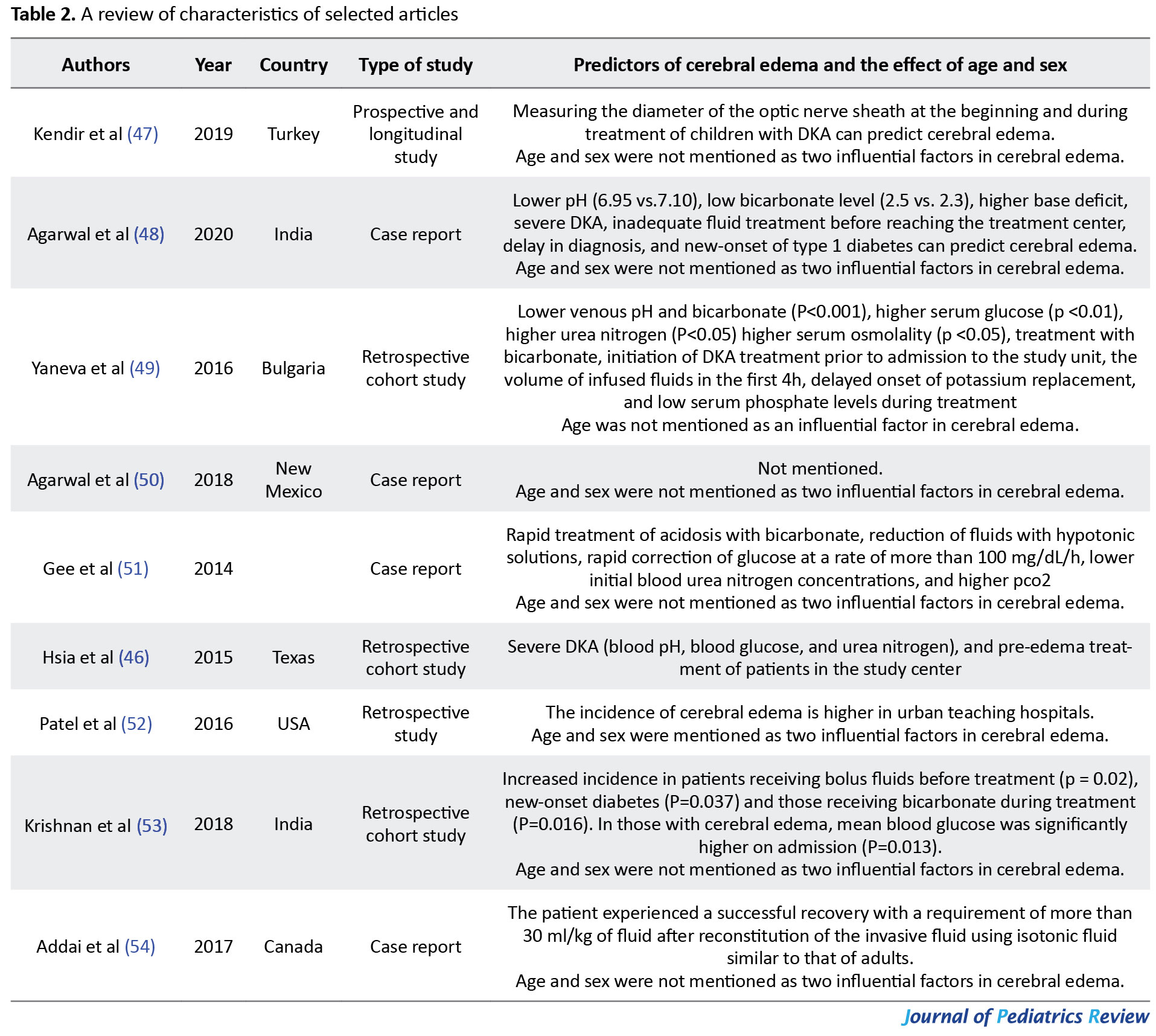 Side effects of cerebral edema
In this study, out of nine articles reviewed, only four articles were on post-discharge complications due to cerebral edema. Also, in the articles studied in this study, the difference in the incidence of cerebral edema was due to differences in sample size (
Table 3
).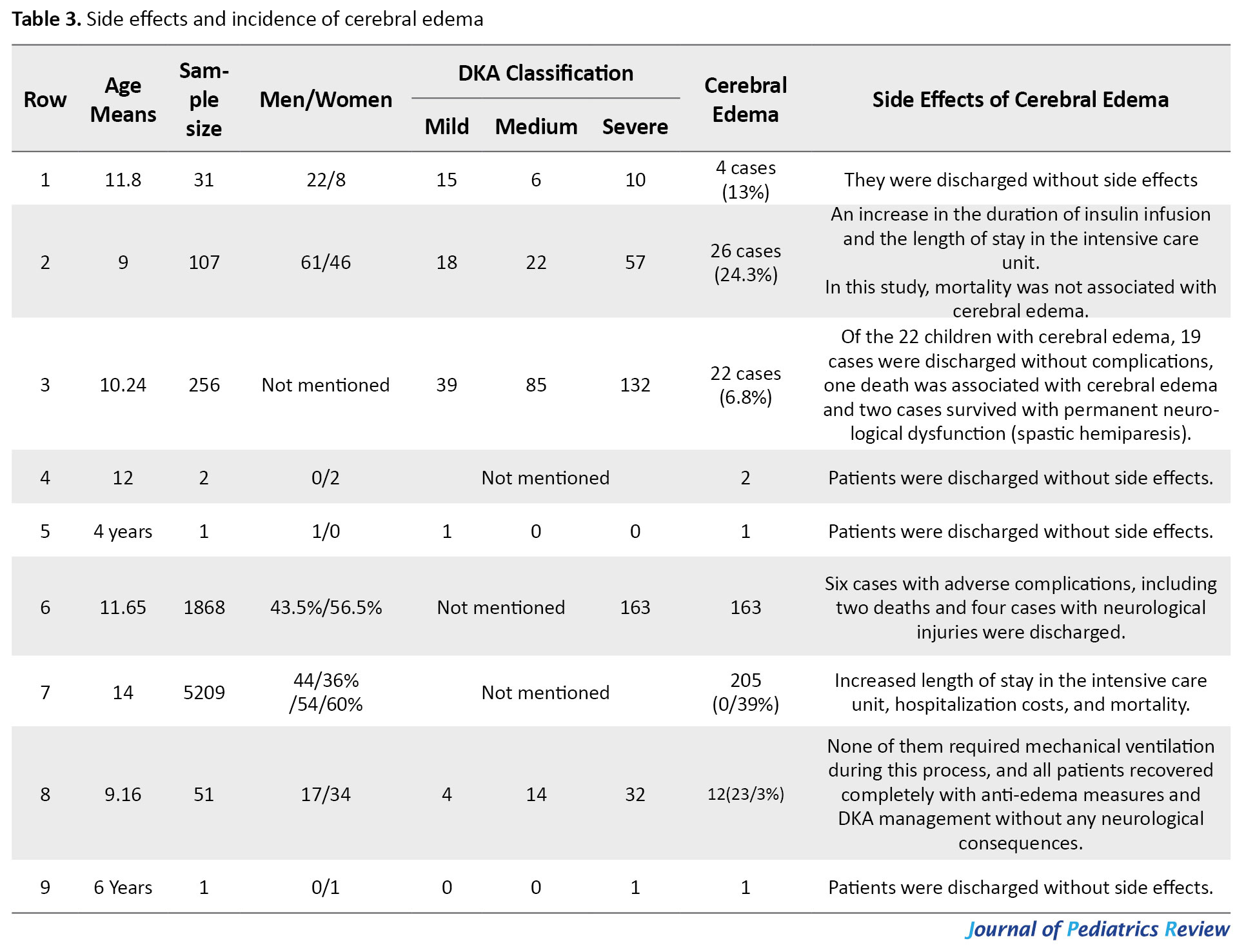 4. Discussion
These studies have identified several risk factors for cerebral edema, some of which are related to the severity of the disease at admission and some are related to treatment.
In a study by Kendir et al., 31 children with a previous diagnosis of type 1 diabetes and ketoacidosis had optic nerve sheath diameter (ONSD), and sonography was performed initially, 12-16 hours after the start of treatment, after treatment, and after discharge. ONSD peaked 12-16 hours after the start of treatment and tended to return to normal after the metabolic disorder resolved. Also, the highest amount of ONSD was seen in children with moderate to severe DKA. ONSD, which indicates an increase in intracranial pressure, can be measured by bedside ultrasound, shows many changes during treatment of children with DKA, and reaches its highest values in the middle of treatment (
47
). In Hansen et al.'s study on ONSD sonography, it was found that subtle changes in ONSD may occur despite the absence of clinical signs of cerebral edema, but it is unclear to what extent these changes reflect actual changes in intracranial pressure (
45
). It is useful for monitoring the effectiveness of DKA treatment in children and for the prevention of cerebral edema and other acute complications of type 1 diabetes (
42
). The use of trans-orbital ultrasonography may be a promising method for the non-invasive assessment of the risk of cerebral edema in patients with type 1 diabetes (
55
,
56
,
57
).
The results of Patel et al.'s study showed that the risk of cerebral edema decreases with age and with every three years of age, the probability of cerebral edema decreases by 0.82. The results of a review study by Glackin et al. on age as a risk factor for cerebral edema in children with DKA showed that there was no significant association between younger age and higher risk of cerebral edema, but most studies found a higher frequency of DKA in children under 5. However, there is no evidence that DKA severity is age-related (
52
). The results of the present study also do not provide evidence in favor of younger age as a risk factor for cerebral edema, and only one article reported a significant association between younger age and cerebral edema.
Out of nine articles reviewed, five articles categorized patients' DKA. Kendir et al. reported severe DKA as a potential risk factor for cerebral edema. Agarwal et al. also showed a high rate of cerebral edema in Indian children and adolescents with severe DKA (38.6%) and a significant relationship was reported between severe DKA and cerebral edema. Yaneva et al. reported a significant association between cerebral edema and severe DKA. Thus, with knowledge of the definition of severe DKA, including venous pH <1.7, bicarbonate <5 mmol/L, and dehydration of 10% (
48
), detection of severe DKA at the time of admission and timely treatment can prevent cerebral edema.
Assessment and correction of dehydration are essential for DKA management. Inadequate fluid resuscitation, including the type, volume, and time of injected fluids had been investigated in seven articles. In the study by Yaneva et al., the volume of fluid therapy in the first 4 hours of treatment was significantly associated with cerebral edema (P<0.01). The process of dehydration correction in children with severe DKA has long been considered by researchers. Therefore, therapeutic guidelines are available in this field that considers the need to reduce blood glucose levels along with maintaining serum sodium levels to prevent a sudden decrease in serum osmolarity (
33
,
60
).
Only one article had cited the delayed replacement of potassium and low serum phosphate levels during treatment as two significant factors in the development of cerebral edema (
49
). Children with DKA develop potassium deficiency of about 3 to 6 mEq/L due to osmotic diuresis, excessive vomiting, volume loss due to renin-angiotensin activation, secondary hyperaldosteronism, and excessive urinary potassium loss. All guidelines recommend starting preservative fluids containing potassium as soon as possible, except in patients with urinary retention or hyperkalemia (
33
).
Three articles had cited sodium bicarbonate treatment as a risk factor for cerebral edema. Sodium bicarbonate infusion has always been controversial in the treatment of DKA. The results of a review study by Patel et al. provide evidence in favor of a higher risk of cerebral edema and longer hospital stay in children treated with bicarbonate (
60
).
New-onset of type 1 diabetes and delay in its initial diagnosis at the time of DKA had been reported as one of the risk factors for cerebral edema in three articles. Therefore, it is important to identify children with type 1 diabetes before they refer to the hospital or treatment center with signs or symptoms of DKA. Unfortunately, various serological markers are not available to screen children prone to type 1 diabetes, and no strategy has been reported to screen for type 1 diabetes before symptoms appear (
60
). Therefore, knowledge of pediatric caregivers about the early symptoms of type 1 diabetes before the onset of severe DKA can be helpful in timely treatment and reduction of irreversible complications.
Regarding the complications of cerebral edema in this group of children, only two articles had reported death associated with cerebral edema and two articles reported discharging with neurological damage after treatment. Of the nine articles reviewed, five articles had referred to asymptomatic discharge and no mortality due to cerebral edema. Also, increasing the length of stay in the intensive care unit and consequently increasing the cost of hospitalization as two complications of cerebral edema in children with DKA, were found in two articles.
5. Conclusion
The pathophysiology of cerebral edema in children with DKA is not exactly known, and various possible causes, including the severity of metabolic disorders and factors associated with diagnosis and treatment, have been cited. Therefore, preventing DKA is the only reliable way to prevent cerebral edema until the causes of this life-threatening complication are fully understood. In order to prevent DKA, awareness and knowledge of nurses and physicians about the early symptoms of diabetes can be effective. In addition, in children with a diagnosis of DKA, continuous monitoring of neurological, clinical, and biochemical status can help identify the first signs of increased intracranial pressure and prevent its progression with appropriate treatments according to the latest guidelines.
Only full-text English and Persian papers were utilized in this systematic review. The inclusion of other works, such as dissertations or clinical trials could cause different conclusions.
Ethical Considerations
Compliance with ethical guidelines
There were no ethical considerations to be considered in this research.
Funding
This research did not receive any grant from funding agencies in the public, commercial, or non-profit sectors.
Authors' contributions
All authors equally contributed to preparing this article.
Conflicts of interest
The authors declared no conflict of interest.
References